London Police Say Car Ramming Being Treated as 'Terror Incident'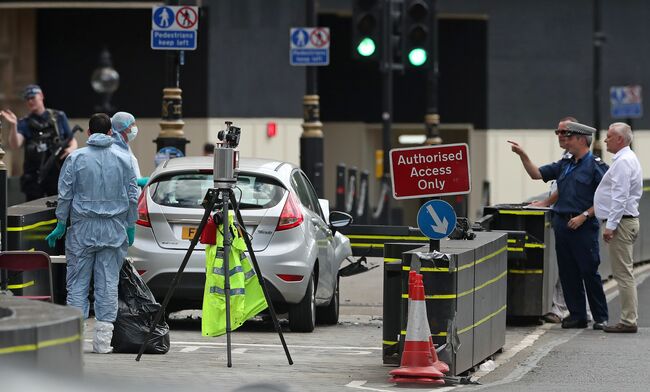 Police in London say a silver car that rammed into pedestrians and cyclists near the Houses of Parliament on Tuesday left three people injured, and is being treated as a terror incident.
Armed police swarmed the courtyard after the crash was first reported around 7:37 a.m. local time. Police captured the suspect, who was described as a man in his late 20s and arrested him on suspicion of terrorism offenses.
Police say the suspect was not cooperating and they were still trying to determine his identity.
No other suspects have been identified and police says there is no longer a threat to residents in London.
During press conference outside Scotland Yard, Assistant Commissioner Neil Basu of the Metropolitan Police Service told reporters that police were treating the incident as a terror incident.
"Given that this appears to be a deliberate act, the method and this being an iconic site, we are treating it as a terrorist incident and the investigation is being led by officers from the Counter Terrorism Command," said Basu.
Basu identified the car as a silver Ford Fiesta and that a search of the vehicle didn't reveal any other weapons.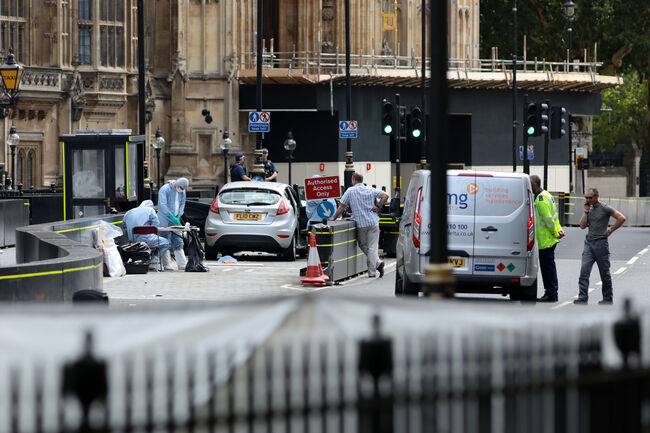 Witnesses say the silver was driving at a high rate of speed when it hit pedestrians and cyclists, until it crashed into a barrier that is designed to stop vehicle attacks against Parliament.
Ewelina Ochab told The Associated Press that she watched the attack unfold.
"The car drove at speed into the barriers outside the House of Lords. There was a loud bang from the collision and a bit of smoke," Ochab said. "The driver did not get out. The guards started screaming to people to move away."
Two people were taken to hospitals in the area and another person was treated at the scene. One woman is still in the hospital as of Tuesday afternoon according to the BBC, but her injuries aren't believed to be life-threatening.
Police lifted the cordons that have cut off much of the surrounding Westminster section
The attack is located in the same area as another vehicle-attack that occurred in March 2017 when Khalid Masood drove into crowds on Westminster Bridge, killing four people. Masood was shot dead by police after he abandoned his car and fatally stabbed a police officer in a courtyard outside Parliament.
Only a few weeks later, eight people were killed and 48 more were injured when a van ran into pedestrians on London Bridge before three men were seen abandoning the vehicle as they attacked people in the nearby Borough Market.
Photos: Getty Images