Remembering the victims of 9/11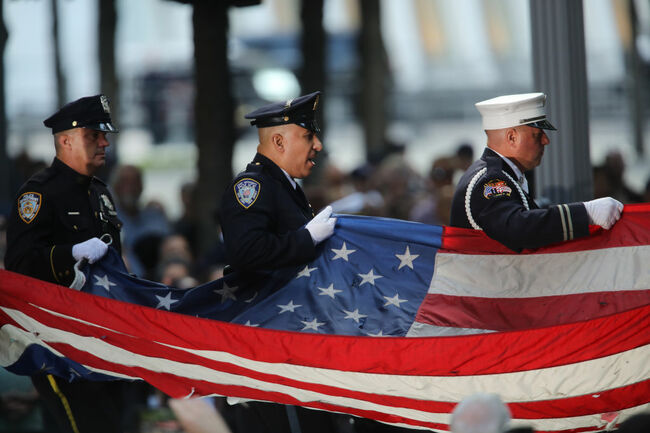 Thousands marked the 18th anniversary of the 9/11 terrorist attacks in Lower Manhattan. Family members who lost loved ones are reading the names of the nearly three thousand people killed at the 9-11 Memorial. The plaza is packed, some holding pictures of their family members killed that day, while others are placing flowers at the memorial. Many politicians, firefighters and police officers are on hand. 
The annual Tribute In Light will illuminate the night sky in Lower Manhattan this evening to memorialize the September 11th attacks. Eighty-eight seven-thousand-watt lights are arranged in two squares on the roof of the Battery Parking Garage, creating two columns of light meant to invoke the Twin Towers. The tribute first appeared in March of 2002 and remained lit for a month's time, becoming an annual 9/11 tradition in 2003. On clear nights in can be seen from a 60-mile radius around the southern tip of Manhattan.
Photo: Firefighters and police participate in the start of ceremonies at the National September 11 Memorial on September 11, 2019 in New York City. Throughout the country services are being held to remember the 2,977 people who were killed in New York, the Pentagon and in a field in rural Pennsylvania. (Getty Images)

The Joe Pags Show
The Joe Pags Show originates from 1200 WOAI in San Antonio and can be heard on affiliate stations around the country and on the iHeartRadio app. Get his official bio, social pages, articles and more online!
Read more