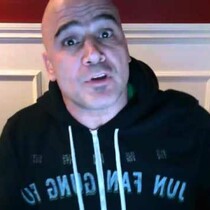 Posted December 29th, 2013 @ 12:39pm


With 2013 now in the books as far as MMA goes; We watched Chris Weidman beat Anderson Silva in July, GSP walked away in December, and then last night we watched Chris Weidman outwork and hurt Anderson until in the 2nd round when Silva sets up a leg kick which was checked and consequently broke Anderson's fibula + tibia. Above is the great Bas Rutten explains what happened in that kick which caused the break and according to the UFC, Anderson will be in the hospital for a few more days after a successful surgery.

While we wait for Anderson to heal we are left to wonder what is next for Chris Weidman?

"I will never get it" Weidman quipped to Ariel Helwani when asked about this second fight and if he would finally get the respect he deserves. I don't disagree. Chris and the UFC has a problem and one that might not be fixable. Weidman faces Belfort next at a yet to be determined date and with Chris' knee injury that bout might be a minute.

"That would be just my luck," said Dana White after hearing about the knee injury because he knows 2014 could prove interesting for the UFC.

In the meantime we have what might be a career ending injury that becomes Chris' first title defense after winning in a similarly odd fashion. Why is this a problem?


The feeling on TV, backstage, and in the fight camps were somber at best because it is a terrible thing to happen in a fight and a harder thing to come back from both literally and figuratively.
The UFC wants a champ that is undisputed and right now there are many who feel that Chris got lucky, twice. Factually that is an incorrect statement as Anderson didn't "make a mistake" in the first fight - he clowned as he had done 16 times prior and paid for it. This time, as Bas illustrated, Anderson used a technique that wasn't perfect and he, along with his leg, paid for it. Chris Weidman is the champ and beat an icon, twice. That is how history should remember him, but will it?

In 2014, the UFC has Cain on the shelf, Anderson on the shelf, GSP retired, a champ who the Internet questions, a champ in Might Mouse that people don't seem to want to watch, Barao + Aldo who do not speak English, and Jon Jones who fights once a year + may need to - along with Ronda Rousey put the company on their shoulders and carry the year.
Chris could be GREAT for the UFC and if he is able to beat a very scary Vitor Belfort. Then, he can build towards that but right now, in the moment, Chris and the UFC hope to build a narrative about this pair of fights that excludes the words, lucky, unlucky, or freak accident and instead replace those descriptors with phrases that Chris deserves.