Best Selfie Yet? Baseball Photobomb...See This!
Seriously, a close call. Crazy that the picture was taken just in time to catch this!
CLICK HERE to see a larger version!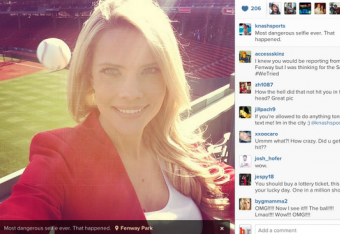 Hello West Michigan, I'm Steve Kelly, the morning show host on NewsRadio WOOD 1300 and 106.9fm. I've been doing radio since 1983 and here in Grand Rapids since 1996. I graduated from Michigan State University in 1987 with a degree in telecommunications. I did, however, grow up a Michigan fan so I promise not to be too bias!I'm a family man, proud to be married to Sandy for 24 years. She's a special ed teacher for Grand Rapids. We've been blessed with two red-headed, blue-eyed girls, Caitlin (20) and Madison (17). When we meet, ask to see pictures.Make sure to check out my page often, tell your friends too!